2nd portion – showing how I did some blocking of the sides/back of the hoop coop to protect some bantams.Here's to show you how in-expensively I protected some Bantams? I used cardboard boxes that I can get for no charge at work. I put these up in September 2016 a few days after I got these new girls/guy.
I started out by actually "sewing" the cardboard to the panels. Then I realized that I could just tie up strands and open the box up and drop it over the strand and then tie another strand at the bottom to pull it up against the coop…
LASTED thru Hurricane Matthew (no pics of this coop then, sorry), the winter when we got a couple of bouts of snow & ice and is now "shredding" or decomposing. With hurricane season starting again now, I need to redo the card board boxes. Guess it's a good thing I brought a whole lot of them, in different sizes, home last week from work. & where did the "old" cardboard boxes go? Well, right into that DLM there, LOL.
and the coop up by the barn? I used feed sacks on the outside of the coop. Turned out not to be a good idea – several of the ponies thought that was a neat game to tear them apart! If I used them again (might), they will go up on the inside of the coop…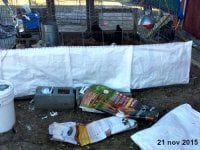 So, not the most pretty, but it sure does work and it's always nice when you can get some things for free or re-use what you have. Some of our original combo panels were purchased in 1995 in MT and made the trip to NC with us in 1997 and have been on 3 different properties. Yes, we have many more new panels, but…
Hay string  (I do a LOT with hay string!), cardboard boxes, feed bags, cattle panels, chicken wire, hardware cloth – it's all good!